Being one of the oldest districts and even having the oldest roadway in whole Taipei, the iconic Dihua street, the district is one of the cultural hot spots of the city.
In this article I'll work through some of the best places of this amazing district to give you an idea what to expect if you're planning to move or travel here!
The topics we will be going over:
How to get around
Historical sights and tourism
Where to eat
Nightlife
How to get around
There are some options for transportation in Datong district. Firstly you can make use of the MRT. The green, orange and red line are going through the district, getting you nearly everywhere. Plus, the biggest and main bus terminal of whole Taipei, called Taipei bus station, is situated in Datong. For other ways of transportation you can still make use of the public buses and if needed taxi's, of course depending on your needs.
Historical Sights and Tourism
As a historical heart of Taipei, it carries a lot of culture within this districts, too many to list all of them. Some honorable mentions I won't go further inside this article, are the Chiang Wei-shui Memorial Park, the Chen Dexing Ancestral Hall, the Taipei Xia-Hai City God Temple and the Tianma Tea House.
Dadaocheng
Dadaocheng, which is in the south of Datong, is one of the oldest communities and historic heart of Taipei. The village can be literally translated to large open space for drying rice in the sun. It's the area, where the previous mentioned Dihua street is located. The road runs next to Danshui River and is the place for old shophouses from late 1880s holding Taiwan's oldest wholesale dried goods market. It also houses the Xiahai City God Temple, which is one of Taipei's most important places of worship and the area's religious and social center. Plus, the road is annually one of the main hotspots for Chinese New Year.
On the other hand you can find Gui-de Street, which is also a highly popular spot. Situated West of Dihua Street and Xining North Road, the nearby wharf is the origin of Formosa Oolong Tea in Taipei. Back then, many wealthy merchants invested in building along the lane in order to attract international trading firms. One was Chen Tian-lai, a Taiwanese tea merchant, who was fabulously wealthy. His home was one of the model Taiwanese residences on this land and his neo-Baroque home is still standing.
Dalongdong
Dalongdong, which is situated in the North-end of Datong, is also one of the oldest communities in Taipei. One of the most famous historical sites in this area are Baoan Temple and Confucius Temple. Baoan Temple is dedicated to Baosheng, the god of medicine. The mural paintings and sculptures, that adorn the building, are considered some of the most impressive ones in Taiwan, and the temple won acclaims in the 2003 UNESCO Asia-Pacific Heritage Awards.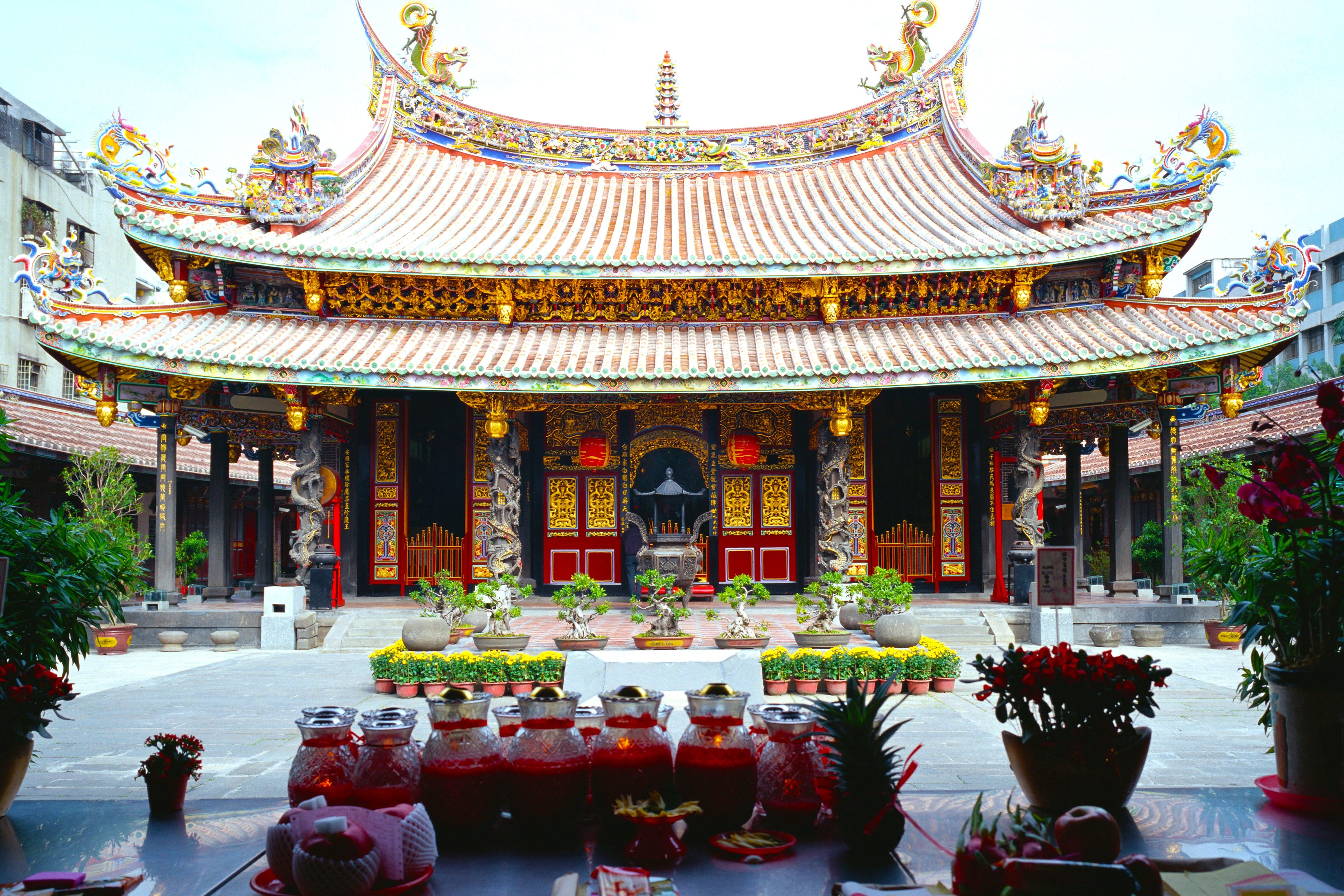 On the other hand the Confucius Temple was built in 1879 when the Qing Court changed Taipei into a prefecture of the Province of Fujian, China. It was established to serve as the largest educational center in northern Taiwan. Every September 28, a large number of people from Taiwan and abroad come here to watch a solemn Confucius birthday ceremony and eight-row dance.
Museums
Due to the fact Datong being one of the historical centers of Taipei, it houses a lot of museums. Those are for example the Museum of contemporary art, the ama museum, the custom museum and the Taiyuan Asian puppet theater museum.
The Museum of contemporary art offers a combination of historical architecture and contemporary art. While wandering around the museum appreciating contemporary art scene you can also check out the Taiwanese colonial architecture during the Japanese colonization.
The Ama Museum tells the tragic and little known stories of the thousands of women that the Japanese Military kidnapped, forced or tricked into sexual slavery. Ama is the name given to Taiwanese comfort women and roughly translates as 'granny'. It fits because many of the female survivors were well into old age before they spoke out about the dark days of the Second World War. Today the Ama Museum's focus is as a base for social activism and education. It has become an important center for the advancement of contemporary women's rights and female empowerment around the world.
The Taiyuan Asian Puppet Theatre Museum is a museum of puppet theater, aiming to preserve and promote traditional Asian puppet culture and fostering interaction between local and international puppet troupes. It houses more than 10,000 puppet theater items from all around the world, including gloves, shadows, strings and water puppets.
Taiwan New Cultural Movement Memorial Hall
The New Cultural Movement was a revolt against Confucianism. They called for the creation of a new Chinese culture based on global and western standards, especially democracy and science. The Taiwan New Cultural Movement Memorial Hall was known as the Taipei Police Bureau during the period of Japanese rule and is aiming nowadays to restore the Dadaocheng area to its original glory. It does not only collect and showcase historical data of the New Cultural Movement, but also integrates and invigorates the Dadaocheng valuable cultural assets.
Where to eat
Ningxia Night Market
The Taipei Ningxia Night Market is one of the busiest and more traditional markets in the city. It is famous for gourmet snacks, including many traditional distinctive Taiwanese snacks from the old days. Some well-known snacks are the Mouthbreeder Soup, Stirred Stay Beef, Pork Liver Soup, Tainan Savory Rice Pudding, Roe Salad, Braised Pork Rice, Oyster Omelet, Pan-Fried Dumplings, Chicken Rice, Oyster Noodles and Imperial Guangdong Porridge.
Yanshan Night Market
If you want to enjoy authentic Taiwanese snacks downtown next to the MRT station, you should visit Yansan Night Market at Daqiaotou Station on the Orange Line. There are no restaurants with fancy decor or massive tourists groups, it's a complete local market. There are three delicacies that you must not miss out: fried noodles, guabao and mochi ice.
Dalong Night Market
It's located near Confucius and Baoan Temple, where different foods during the day and at night are futured. In the morning, there are many stalls and restaurants that provide Taiwanese-style breakfast like fried egg pancake, rice, noodles and congee. At night, the traditional restaurants open to feed Dongshan duck head, Dan Zai noodles, Taiwanese meatballs, pepper popcorn chicken to the throng of fans.
Nightlife
Datong is not really well known for it's nightlife and there are also no clubs located. However, in this district there are three bars being relatively popular and getting moderate amounts of customers.
Beer Ammo
The Beer Ammo is a small craft beer bar'n'shop with over 300 Belgian and international craft beers on tap or in bottle. There are a few branches all around Taipei all with this big variety. You can sit down and enjoy the beers at your own pace or take it with you. The Staff is very knowledgeable and will recommend the right craft beer for you.
Tipsy House Beer Boutique
This Beer Boutique is not only a place to drink, but it is also a cozy hostel. Customers really appreciate the large variety of craft and normal beers. According to reviews they really appreciate the stuff, especially the owner, who are really welcoming and knowledgeable.
HangOut 97
Situated near Ningxia night market, this nicely designed and cozy place is perfect to sit down and relax after a busy day of visiting Taipei and strolling down the night market. Reviews say, that drinks are reasonably priced and that there are some tasty dishes on the menu. There is also a friendly The host, who speaks English.
Who is going to like living in Datong district
As a historical and cultural hot spot, people who are interested in Art and History are perfect in place. It doesn't have this huge downtown vibe, like having several skyscrapers around, which gives the area a cozy flair. It has a few night markets,one busy and the other ones more local and calm, so whatever kind of food you're looking for, you will find it. And last but not least, it's not really an area to go out and party, but you can find cool bars or just enjoy at the night markets.
Summed up it's a beautiful, cultural place with great connections of public transport, doesn't matter if you're looking for the MRT or the main bus terminal of Taipei.
If you're looking for a room, we also offer rooms for rent all around Taipei! Maybe we have a room free in Wenshan district in case you're planning on moving to this district!
Sources
Picture 1: https://upload.wikimedia.org/wikipedia/commons/b/bc/Ningxia_Road%2C_Datong_District%2C_Taipei_City_in_Afternoon_20151229.jpg
Picture 2: https://upload.wikimedia.org/wikipedia/commons/thumb/3/3e/Taipei_Bus_Station_under_construction_20090704.jpg/1200px-Taipei_Bus_Station_under_construction_20090704.jpg
Picture 3: https://farm5.staticflickr.com/4768/40231337292_c017dd1bb7_b.jpg
Picture 4: https://i.pinimg.com/originals/72/fa/a9/72faa90474a4c4c864c37cd33baef9f1.jpg
Picture5: http://photos.mandarinoriental.com/is/image/MandarinOriental/dmo-concierge-taipei-2
Picture 6:
http://3.bp.blogspot.com/-WKpZhy8sKh4/Vf-8Z7rj_SI/AAAAAAAAE28/pVxe64Xbflk/s1600/Taipei%2BConfucious%2BTemple%2BFG.JPG
Picture 7: http://www.tkhunt.com/sites/default/files/styles/l/public/venue/image/20150122/162534-5193e371bfe37243a653c7240eb06ddddf19fc39-23/museum_of_contemporary_art_taipei-2.jpg?itok=HAM4AH-z
Picture 8: https://worldforagirl.com/wp-content/uploads/2019/10/Ama_museum_tapei-16-2.jpg
Picture 9: https://media-cdn.tripadvisor.com/media/photo-s/0a/07/b3/04/caption.jpg
Picture 10: https://upload.wikimedia.org/wikipedia/commons/thumb/8/8e/%E8%87%BA%E5%8C%97%E5%8C%97%E8%AD%A6%E5%AF%9F%E7%BD%B2.jpg/240px-%E8%87%BA%E5%8C%97%E5%8C%97%E8%AD%A6%E5%AF%9F%E7%BD%B2.jpg
Picture 11: https://guidetotaipei.com/sites/default/files/styles/hotlink-ok/public/images/destination/23/Ningxia-night-market-5.jpg?itok=gq7eayd_
Picture 12: http://taiwan.gurashi.com/wp-content/uploads/IMG_1507.jpg
Picture 13: https://nightsi.de/taipei-hot-pot-in-taipei/gallery/28-taiwan-taipei-way-home-beer_480.jpg
Picture 14: https://afar-production.imgix.net/uploads/images/post_images/images/ECH3s8PbFp/original_open-uri20140215-1214-1sgabvr?1392487995?ixlib=rails-0.3.0&auto=format%2Ccompress&crop=entropy&fit=crop&h=719&q=80&w=954
https://english.culture.gov.taipei/News_Content.aspx?n=1720A1EC75EF55C2&sms=9A458AE5B5A5330A&s=525142DCF5864075
https://english.gov.taipei/News_Content.aspx?n=460F7826293CF0BA&sms=07D68BC61ECBFF67&s=A8B40C5D97E0A0D9
https://english.doed.gov.taipei/News_Content.aspx?n=ABE08AB7BAAE486B&sms=620A6D164BDE2D7C&s=C0319832412A5EA2